Exciting and Impactful Agenda In Store for 2023
For 2023, we have designed the agenda to be impactful, informative and interactive, culminating in actionable knowledge, initiatives and meaningful action.
Here is just a few of the new features:
Work Groups: RBX will be hosting a series of work groups throughout the program designed to bring groups of our participants together to discuss critical topics and provide recommendations and ideas. A facilitator will lead the discussion and make notes of the findings which they will share (attributed or anonymous) to the entire program at the end of the last day. These findings will also be distributed to all participants after the program to share with their colleagues and leadership after the program. These work groups and findings will help drive the mission of the Response Boat Expo and Conference to lead and impact the response boat community in a positive and impactful way.
Advancement in Boat Technology, Design and Materials Presentation: These sessions will showcase the latest and greatest the response boat industry have to offer. There will be up to 8 presentations by our best in class exhibitors allowing solutions and product providers to inform and engage with potential end users.
More On-water Demonstration Opportunities: All participants will have an opportunity to demo the latest and greatest vessels the industry has to offer on all three days of the program with a dedicated demo day on August 14 and shuttles to the Marina on August 15 and 16.

Benefits of co-location Maritime Security West: Joining the two program will allow attendees access to more sessions that has wider application to their missions as maritime responders and operators. For exhibitors, the co-location will allow exhibitors to meet more of their target audience in one place.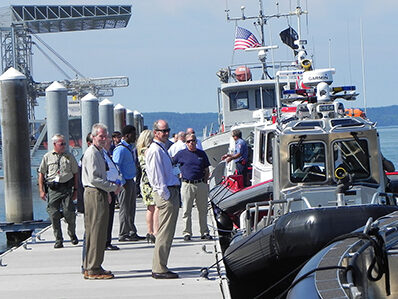 On Water
Demo boats and technologies in their operating environment. Take boat rides on demo day and experience their capabilities. There is no better way to educate yourself on the products than experiencing it first hand.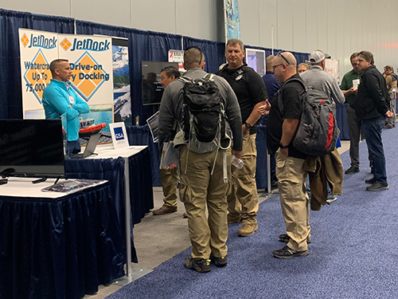 In Hall
Make the most of your time and energy by placing your company and solutions in front of professionals who are serious about their missions in vessel acquisitions, operations and maintenance.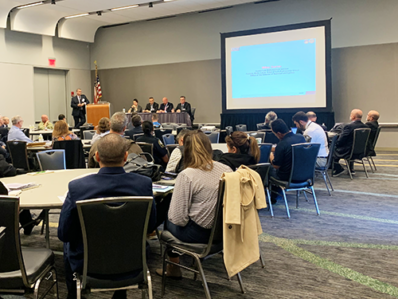 In Sessions
Hear from government, military and industry leaders about trends, challenges and best practices in vessel acquisitions, operations and maintenance.
A Few of our 2022 Attendees and Exhibitors
ADS, Inc.
Airship AI
Allsalt Maritime
Amentum Services, Inc.
Anchor Innovation, Inc.
Armor Marine
Australian Border Force
Charleston Police Dept.
Chesapeake Fire Dept.
Chesapeake Police Dept.
Chesapeake Police Dive Team
Chesterfield County Fire and EMS
City of Virginia Beach
David Clark Company Inc.
Defense Threat Reduction Agency
Driveline Service of Portland
Fairlead
Federal Bureau of Investigations
Furuno USA, Inc.
Future Defense USA Inc.
Getac
Gibbs & Cox, Inc.
HamiltonJet
Hampton Police Division
Hefring ehf.
Henrico Police Dept.
Hensoldt Inc.
Humphree USA Inc
Iguana Pro USA
Innovative Signal Analysis
Inventech Marine Solutions-Life Proof Boats
Jenoptik
Jet Dock Systems, Inc.
Joint Task Force North
Kraft Power
Laborde Products
Lake Assault Boats
Lifesaving Systems Corporation
Mack Boring
Marine Sonic Technology
Marlin Marine
Metal Shark Boats
MetalCraft Marine
Moore Heavy Hauling
Motorola Solutions
National Maritime Intelligence Integration Office
National Maritime Law Enforcement Academy
Nobeltec
Norfolk Fire Rescue
Norfolk Police Dept. Harbor Patrol
North River Boats
Ocean Craft Marine
Ocean Power Technologies
OXE Marine Inc.
Palm Beach County Sheriff's Office
Port of Jacksonville
Port of Virginia
QPI
RHOTHETA International Inc.
RIBCRAFT
SAFE Boats International
Savox Communications
Sea Machines
Silver Ships, Inc.
Spotter Global
SSR Engineering
Surface Navy Association
Teledyne FLIR
Terma Inc
Tideman Boats US
U.S. Border Patrol
U.S. Coast Guard
U.S. Coast Guard Sector Virginia
U.S. Customs and Border Protection
U.S. C.B.P. Air and Marine Operations
U.S. Dept. of Homeland Security
U.S. Dept. of Homeland
U.S. Naval Sea Systems Command
U.S. Naval Surface Warfare Center (NSWC)
U.S. Navy Combatant Craft Division
U.S. Navy PMS300
U.S. Navy Small Boat Program
U.S. Navy War College
U.S. Navy (NECC)
Virginia Beach EMS Marine Rescue Team
Virginia Beach Fire Dept.
Virginia Beach Police Dept.
Virginia Dept. Wildlife Resources
Virginia Marine Police
Volvo Penta
Willard Marine Inc.
Windward US
Zodiac of North America
Book Your BOOTH NOW AND SAVE
Book your booth early and save $250! All booths come complete with three all access passes, carpet, table, chairs, electricity and wifi.
Registration is Now Open
Complimentary Registration for all Active Duty U.S. Military (Navy, Army, Air Force, Coast Guard, and Marine Corps), Law Enforcement, First Responders and Government Employees. Low cost registration for all private organizations and individuals.