---

david clark company
David Clark Company offers the new Series 9100 Digital Intercom System, a programmable IP based headset communication solution for law enforcement, interdiction, SAR, fire boats and other workboat applications, integrating an unlimited number of users and devices (e.g., radios, hailers, etc) with headsets usable as either wired or wireless devices. Click here to learn more.
---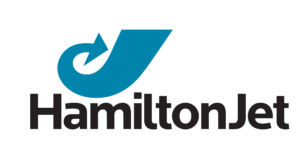 HAMILTONJET
The HamiltonJet waterjet is one of the most advanced and innovative marine propulsion systems in use today, and is at the forefront of waterjet propulsion technology. HamiltonJet pioneered the development of the modern waterjet system over 60 years ago, adapting technology initially designed for shallow river operation to suit all manner of inshore and offshore vessels. In doing so we discovered the wide range of advantages waterjets have over other forms of propulsion.
The HamiltonJet Waterjet is particularly suited to high speed planing vessels operating in the 20 to 50 knot range, but can also be successfully used in displacement speed vessels in certain situations.
It is important to understand that waterjet propulsion operates quite differently to conventional propeller propulsion systems. This results in many advantages, along with a few disadvantages, when compared to propellers for any particular application. Click here for more info
---
Laborde Products
Laborde Products specializes in the marine and industrial industries, distributing commercial engines and related products built for a multitude of operations. Working hand-in-hand with time-tested manufacturers such as Mitsubishi, Scania, Steyr and Hatz, the Laborde team dedicates itself to delivering products and services that are unmatched in quality and reliability. Laborde Products provides service, training, and parts support with its dealer network from the Gulf of Mexico to the Great Lakes, Atlantic and everything in between. Laborde Products is headquartered in Covington, LA, with a second branch in Houston, TX. Click here for more info
Metal Shark
Metal Shark is a leading shipbuilder specializing in the design and production of boats and ship for military, law enforcement, fire rescue, and a wide spectrum of commercial applications. At three fully self-contained facilities in Alabama and Louisiana, Metal Shark manufactures vessels in aluminum, steel, and fiberglass, with current capabilities supporting production for vessels up to 300' in length. Click here to learn more.
---
For over 20 years, Moose Boats, LLC has been building the highest quality diesel aluminum catamarans and monohull boats in the industry. Each custom designed vessel is engineered to meet the mission specific requirements for law enforcement, emergency response, security patrol, and a variety of other industrial applications.
Moose Boats are known for their sensible design, durability, comfort, safety, fit & finish. These tough & powerful boats are found perpetually at work satisfying the needs of clients from California to New York, and from the Great Lakes to the Gulf of Mexico. They are designed and constructed in the San Francisco Bay Area at the Moose Boats facility within the Lind Marine shipyard complex at Vallejo, CA, USA.
Moose Boats can help you get your job in the water done safely and effectively. No nonsense. Serious boats. Click here to learn more.
---
NORTH RIVER BOATS
North River Boats, located in Roseburg OR, is a manufacturer of heavy gauge commercial and government boats ranging from 20′ up to 58′ in length. We specialize in building custom boats to meet the exacting needs of our customers. Contact us today to see how we can tailor a boat to meet your specific needs. Click here to learn more.
---
Zodiac MilPro
Zodiac MilPro has more than 100 years of Zodiac technical heritage to draw from, with facilities in Spain, the USA, Canada and Australia. Zodiac MilPro vessels are used worldwide by navies as well as by fisheries, customs, rescue and other government authorities — including where boarding or naval interdiction operations are required in potentially dangerous situations, whether the danger can originate from sea conditions or a target vessel. Click here to learn more.
---